Backlinks (also known as inbound links) make the SEO world spin. They have been among the most important search engine ranking factors of all time since Google started. One of the most important aspects of SEO is building backlinks. Do you know what types of backlinks to target in your next link-building campaign?🤔
Creating quality content is just half the battle when it comes to making the web pages ranked on Google's search results pages. The other half means promoting your content and creating backlinks with a good backlink strategy.
Note: In Search Engine Results Page, web pages with more backlinks tend to rank higher.
It will take a concentrated effort to plan and implement an ideal backlink profile.
If your website isn't ranking the way you want it to, you need to ask yourself: Are you sure that you are creating a rich backlink profile by building the right types of links?
So, when it comes to different types of link building, the list is very long. This post will show you some types of backlinks, ranging from the most useful to those you should avoid at all costs. But first of all, I will mention the factors that determine their value.
Factors that Determine Link Value
Backlink value is highly important.
A low-quality backlink will never boost the ranking as much as a high-quality backlink will.
Here's a list of the main factors that help us determine whether a backlink is of good value.
Authority of the linking site
Backlinks from high-authority websites are the most useful. To determine the authority of a site, it is important to track its website performance. There are many tools out there that can help you look it up. I'll use Ahrefs as an example:
Ahrefs Site Explorer (A backlink tool, backlink checker like Ahrefs uses a metric called Domain Rating (DR). It has a scale that ranges from 0 to 100. Which shows the overall strength of a website's backlink profile.)
The higher the Domain Rating (DR) of a website, the more powerful and authoritative it is.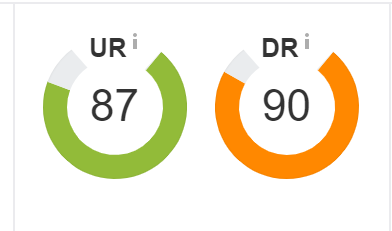 How to check DoFollow and NoFollow backlinks
When a website adds an outbound link to their website, they will set the link to be "do follow" or "no follow".
What are Dofollow backlinks?
DoFollow backlinks are important since they transfer a so-called "link juice". It improves the search engine ranking of linked-to pages while also improving your page ranking. In other words: DoFollow backlinks tell search engines that the content they're linking to has value and that it should be ranking for keyword-related search terms.
What are Nofollow backlinks?
NoFollow Links do not pass link juice to your website and have little effect on page ranking. However, Google gives some regard to them but it's a minuscule effect. In one word: NoFollow links tell search engines to ignore the links and give them a low SEO value.
To determine whether a link is dofollow or nofollow, you can use tools like Ahrefs, Moz, or NoFollow, a simple Chrome Extension.
There are other ways to check the type of link as well: The easiest way to find out is to click on the link with the right-click and select "inspect" in Chrome or in other web browsers. Once you do that, a window will appear on the right Html highlighted link. Then simply check to see if the rel=" no follow" attribute is in the code. If they don't have any markup, this means they are dofollow by default.
The backlink's location has a major impact on the backlink.
The most important links are located in the site's main body content and in the intro.
Also, you need to combine both anchor text with relevant link
If a link is put at the top of the content, Google is likely to consider it to be of high interest. It will not only be crawled earlier by Google, but it will also increase the backlink profile.
You must remember: Links from respected websites, set to "dofollow" status, and posted within the site's main body content will deliver the greatest value from an SEO perspective.
In the following list, you will find the best backlink types that you can generate for your website.
Any type of link to your site that comes naturally from a relevant and authoritative source is almost always positive. It is not a matter of building links without following a proper strategy. 
This is often referred to as "natural link building." The organic link-building method helps the website rank higher in search engine results pages by growing its authority and credibility in the eyes of search engines.
The editorial link is the kind of link that will help you attract more visitors to your website content. Editorial link is the type of backlinks that digital marketers should target as part of their link-building strategy. An editorial backlink is created when your content is cited (highlighted) as the source of specific information. The only way to build editorial links is to create unique, well-written, high-quality content that other websites will want to reference and link to organically.
When you publish high-quality content, it not only garners a lot of attention but there are chances of other websites citing the content as a source of information.
Google on Editorial link:  Editorial links are the connections Google wants webmasters to build. (safaridigital.com.au)
Also, editorial links may be included as: 
Citing a source of information as someone from your business or someone from your content

Using your website to claim as the source of an infographic

Including your website or content into a roundup of links

Having an interview with someone who is connected to your website
How to get editorial backlink: 
Make a strong content marketing strategy

Create insightful content that can be used as a point of reference.

Make shareable content that people would like to chat about on other websites.

Publish content that identifies your website and brand as an industry thought leader, inspiring other sites to cite, valuable sources, and interviewing you. (In Google's eyes, a website that does not provide value to its audience and/or includes spun/duplicate content has a bad reputation.)
At Backlinker we use Ahrefs tools to find popular keywords and topics. ( Keyword Explorer and Content Explorer )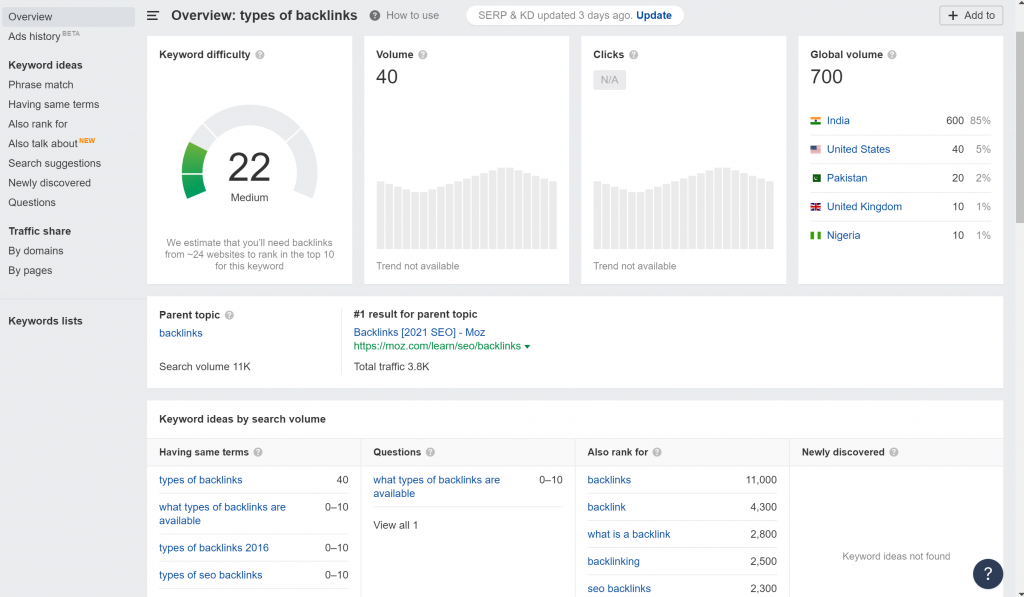 Backlinks from Guest Blogging
Guest blogging is one of the most common ways to get backlinks. 
Recently, Google took a strong line against websites that used guest posting only to build backlinks rather than provide real value to readers.
Instead of creating backlinks, the better strategy is to treat guest blogging as an opportunity to grow the brand and reach a larger audience. Guest posting is a deal between a webmaster and the writer- usually, these are done in exchange for getting a link on a blog post.
Building good guest post links involves creating high-quality content that offers real insights and educates readers.
How to get guest blogging backlinks:
Make a list of useful guest blogging sites and practice your guest blogging outreach skills. For example: reach out to other bloggers for collaborations, share posts on social media, etc. This kind of link definitely will give your organic traffic a boost, also referral traffic if the lining website has a larger audience and page authority. ( We at Backlinker use Sales.Rocks for outreach)
Sometimes, in the main body of the piece of content, guest blogging sites do not allow or may not have a backlink to the author's website.
However, they allow the author to have a connection in the author's bio instead. The links that the author adds in his profile are called author bio links.
This kind of bio backlink has a positive effect on your website's ranking even though they are not part of the main content.
How to get Guest Post Bio Backlinks:
Perform a backlink analysis on the competitor's backlinks using the same guest posting strategies.
Business Profile Backlinks
You should add a link to your website when creating an online profile for a business.
These links on business listings, social media networks, and industry-specific directories show to search engines that a website has been well and of good quality.
Search engine business directories are the perfect place to start optimizing your business profile backlinks:
Google My Business – the most important business directory online 
Bing Places for Business – the Bing search engine gets more than billions of searches per month, the majority coming from the USA.
Yahoo Localworks – allows digital marketers to manage directory listing across 70 different platforms from a single interface.
G2 – enables you to record those highly important details whilst the information is still fresh in your mind.
Trustpilot – allows customers to review a business from which they've purchased a product or service or contacted customer service.
Capterra – helps people to find the best business software.
How to get Business Profile Backlinks:
Make a profile on well-known directories or review websites in your industry.
Webinar Links
Participating in webinars is one of the most famous ways to earn links, especially if you record them for later use. You should focus on educational and showcasing webinars as people are more interested to link to helpful content or a good tool to help others.
When you post the recordings to your blog, you'll get more links.
Many websites also connect to or add webinars from other brands, resulting in both links and brand mentions.
The more people who see your brand, the more likely they are to buy from you. For business growth and overall marketing goals, brand awareness is important. Brand Awareness fosters trust, creates associations, builds brand equity.
How to get Webinar Backlinks:
Share and promote on social media, have industry guests share valuable tips and best practices, offer content, like link building outreach templates with high open/reply rates, other forms of valuable content that can boost shareability.
Everyone loves a free product. Another effective way to gain attention and backlinks is to provide a helpful tool for free.
Others can link to the tools in their content if they are useful enough.
Promote the tool on pages with a similar audience to your own to encourage backlinks.
Furthermore, once you have anything useful, you can have call-to-actions that encourage people to sign up for the full service, resulting in purchases and brand exposure.
Example: Visme, Infinity, etc. 
How to get Free Tool Backlinks:
Create a free version of your paid tool or a simple tool. To connect with the sites to see if they'd like to feature your free tool, do outreach. Guest blogging is the best way to promote something.
Other types of backlinks aren't as valuable as the ones mentioned above, but they can also help you improve your SEO.
Acknowledgment Backlinks
Acknowledgment backlinks are another SEO-boosting backlink that will help you improve the website's branding.
These types of backlinks usually don't include much information about the brand or what they do, and instead consist of basic mentions that:
Indicate whether or not the brand has made a donation.

Demonstrate that a member from the brand is presenting at or promoting an event.

Have a testimonial for the name of the linking website.
How to get Acknowledgement Backlinks:
To find backlinks that your competitors get traffic from, use tools that will help you. ( example: Ahrefs).
Any digital media campaign requires the use of press releases.
It will help your website gain backlinks and inform media outlets of your news.
However, press releases, if done correctly, may be a great way to get naturally included backlinks. However, if they aren't done correctly, they might cause more harm than help and even result in penalties.
Customers and news outlets will be informed of the following by the right types of press releases:
A fresh product or product line

A new place is about to open.

You've formed a new relationship or sponsorship with another business.

Changing the name of the company is a great way to rebrand it.
How to get Press Release Backlinks:
When your brand has news, write a press release and send it to media sources. It is done through PR agencies and also may be expensive. Use HARO – it is one of the best ways to get high authority backlinks from news sites.
Read More: Basics of using HARO
White-hat link building is a method of link building that presents no danger to website owners. The best choice for optimizing your backlink profile and, as a result, your SEO success is to use white-label link-building services.
Below are some of the most important white-hat link-building methods:
Creating a unique and educational fresh content piece

Backlink on quality website

Placement of Links on a Wide Range of Sites

Transparency of Sites Before Publishing
Black Hat Link Building The method of using shady link-building strategies that ignore search engine rules to push traffic to a website is known as black-hat link building. The issue with black-hat techniques is that search engines have become aware of them and have built algorithms to track and penalize websites that use them.
Despite the significant risks involved with these strategies today, people want to use them to raise website rankings quickly rather than organically.
Below are some of the black-hat link building methods:
Private blog networks

Link Farms

Hidden Links and Texts

Paying for links 
Types of Backlinks to Avoid
It's easy to believe that any link, no matter how valuable, is useful because high-quality backlinks are such an important part of SEO. However, not all links are worthwhile.
When it comes to link building, avoid this type of bad backlink.
Paid links are "do follow" backlinks that are earned by giving someone "something of great value." Simply said, offering someone something of value (typically money) in exchange for a link on a site that passes SEO value to yours is what this means. In Google's view, this is a huge no-no.
Why?
Because you don't get what you pay for when you buy links in order to improve your link portfolio.
For example: When PNB's ask money for each link. In this case, Google dislikes PNB's.
Press Releases That Aren't Newsworthy
Press releases that are interesting and newsworthy will help a company gain attention and links.
But, creating press releases exclusively for the purpose of creating backlinks is a spammy technique that could harm SEO.
General and Listing Directory links
You can add your website on as many directories as you want but the link due to a high amount of listed websites with links carries little importance.
Creating profiles in directories that aren't trusted or valued can be seen as spam, and it can hurt SEO efforts.
Stick to the directories that are the most reliable, reputable, and important to your business.
Forum Links
Some people can advise you to enter online forums and link to yourself in your posts and responses.
Another type of backlink to be careful of is this one. Spammers have abused it in the past, and as a result, Google would not look kindly on them.
Comment Backlinks
Websites that allow you to leave comments can also allow you to connect to your own. But it is almost a dead way of link building. It has a high spam count, mostly the comment section is a nofollow backlink.
To stop Google from assuming you're a spammer, just add links to comment profiles on high-authority and related websites.
In this strategy, don't go overboard. Simply focus on making important, high-quality comments on blogs or forums related to your industry.
Conclusion:
Every effective SEO growth strategy must include link-building as one of its major objectives. But keep in mind that when it comes to acquiring new backlinks it's not about quantity, but quality.
Understanding the value of the different types of backlinks will help you and your marketing team in creating a backlink-building plan to achieve your goals.
The best long-term strategy for website SEO is to create high-quality content supported by backlinks with high value. The basis for this is that search engines always try to provide searchers with quality authoritative content. Creating the highest quality signals possible to assist in the visibility of your website should always give it the best chance of ranking high.
Building a backlink profile with different types of backlinks on your own can be a lot of effort. Not to worry, that's our job, to help you build a strong backlink profile to your website and your content in order to increase your organic traffic and SERP visibility.
Remember: The most valuable types of backlinks come from websites with high authority.