Having an effective outreach technique is important no matter what your outreach email target🎯 is, whether it's to make a sales deal or earn high-quality links from the site. Email outreach is an essential part of any SEO strategy.
It sounds easy, but it's a bit tricky to achieve.
And why is it so tricky?🤔
According to experts that 121 business emails are sent and received each day. , it might be difficult to break through the noise and have your email opened, read, and replied to.
It might have been your first outreach email campaign. Perhaps you tried one and gave up halfway through. Or perhaps you believed you had done everything correctly, but you didn't get the desired results. 
Therefore the essence of outreach needs to be studied in more depth. Once you understand the key steps of how to do it, you will notice that this will skyrocket🚀📈 your business.
So, here are few successful email outreach tips that can inspire💡 you for your next outreach campaign.
Remember: You should begin step by step👣, brick by brick🧱 because it is better to take small steps in the right direction rather than taking a giant step forward just to stumble backward.
Set your target🎯
Before you start your outreach email campaign you need to know what exactly you are searching for.
As a saying goes: " A goal without a plan is just a wish. "
Campaign goals can be achieved through a variety of reasons, including: From prospecting to brand awareness or the announcement of new products or features, building links, to assisting in the closing of agreements and achieving sales conversions.
You should ensure that everyone on your Marketing team understands what the final goal is and what metrics to track to determine whether or not the campaign was successful. But, the most important thing is to focus on metrics that truly show success, such as conversions and ROI.
Find the right audience and their emails
Finding the right audience is important for every success of any email campaign. Even the best email campaigns might come to an end if they aren't targeting the right people.
By researching🔍 important information about your audience, you will be able to get to know them better, understand the group's expectations, and offer them the information and promotions they want. You should also analyze your competitor, what works for them, the piece of content they create and share, and so on.
You can research in different ways, from different sources.
Analyze Your Customer Base
Looking at who already buys your product or service is one of the best ways to figure out who your target audience is. What is their age, where do they live, and what are their interests? Engaging in social media ( LinkedIn, Facebook ) or distributing consumer surveys is an excellent way to learn this.
Conduct Market Research and Look for Industry Trends
Examine your industry's market research to see where there are gaps in your product/service may fill. Look at trends for similar products/services to see where they are focusing efforts, then hone in further on your product's/services unique value.
Analyze Competitors
Marketers can learn a lot by looking at competitors what services/products, the content they are usually providing, and how they go about it. You can do this analysis through tools such as Ahrefs, Semrush, etc.
Use Google Analytics
Google Analytics provides a lot of information about the people who visit your website. This data may be used to gain important insight such as which channels your target audience is using or what sort of content they are engaging with and connecting with the most.
Example:
How to find an audience for backlink exchange ( I don't mean just about every website in our field. I'm talking to pages that are already ranking for our target keyword.)
We can do this with a simple Google search. But I also do it with Ahrefs which has a tool Content Explorer. I'll take as an example the keyword: Email Outreach. 
I'd do a search for all pages that have "email outreach" in the title and set some basic filters:
Page must be in English

Published: this year

Live pages only

Maximum Domain Rating of 20 (

Remember:

When searching for an audience, always look for a website with a Domain Rating similar (or just a bit higher) to yours. I say this because if you have low DR and try to contact a person who has a high website DR it is very likely that person will not respond to your email, or won't have interest in your offer, since the gain won't be mutual unless you have something else to offer in exchange to their backlink. (inbound link)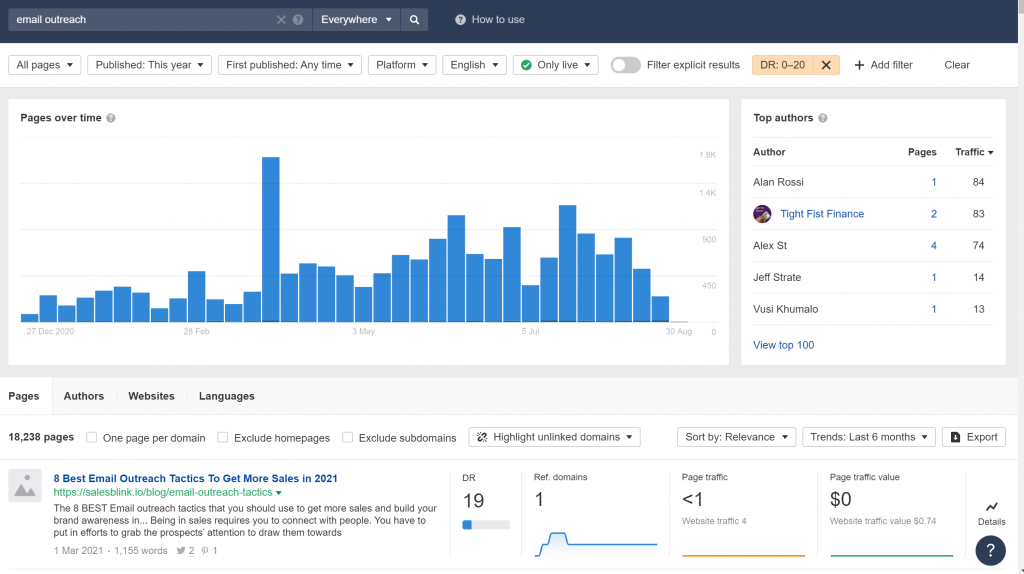 To have better evidence of your contact details create a list in Google Docs Spreadsheet.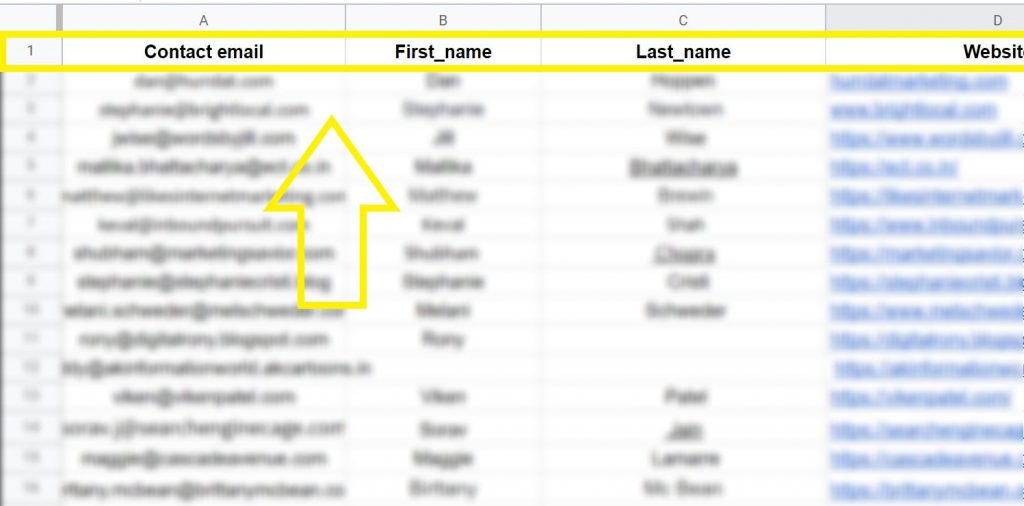 I like to use the columns shown below as:
Contact email

First name

Last name

Website URL

Website name

DR ( website's Domain Rating)

Their blog link

Anchor text

Our blog link
Obviously, the columns will vary based on your needs, but the basic parts will remain the same. It is a highly practical way to keep information organized. When everything is in order, there is less chance of losing something.
Get their email address
Getting contact data is essential if you want to connect with your target prospects. In any case, focus only on searching personal email addresses. Here are to ways of how to do it :
I recommend that you begin your investigation with social media profiles. 
Remain aware of a person's work status. As a result, you can see whether or not a potential customer has changed it. As a result, his or her email address may be invalid, and you will need to look for a new one. So, double-checking will help you avoid this misconception.
Use of link building tool for email hunting.
I recommend using email-finder tools such as Sales.Rocks, Hunter, Clearbit. These tools work in a similar way. Use the person's complete name and a link to the company's website where he or she works. They also have the tools that identify email addresses whether they are valid or not.
Example: Hunter

They also have the tools that identify email addresses whether they are valid or not. Also, there is another tool VeryfryBee which helps to verify email addresses.
For a more detailed explanation of how to find email addresses, go here: The best ways how to find someone's email address
Check the Company Website

Use An Email Finder Tool

Use Contact database

Do a web search

Make your best guess and verify it 

Subscribe to their newsletter
Create Your Email Templates
Some people get lost while creating an email because they over-analyze and try to create the perfect email template in their first campaign. Although this is an important part, you should not overthink it. Just find or create a good template, use it, analyze what works, and then move on😁.
Here are some ideas to help you create a good email template:
Subject Line:
It is important to attract the reader's attention here because most of the time emails are either ignored or opened just because of the email subject line.
Here's an example of a catchy subject line:
Being short and precise (3-4 word's maximum 6 words)

Personalize as much as possible by mentioning a prospect's name, company name, or a common experience. ( A personalized email is relevant to what the recipient does and care about )

Talk to your prospect as if you were talking to a friend. ( so they won't think it's a spammy offer that goes right to junk)

Email Body
The prospect should be the only focus of your email. Basically, avoid talking about yourself or your product/services. Begin by revealing a pain issue, offering your value proposition, or grabbing attention by giving some interesting facts or content. This will bring you the attention and trust of your reader.
Here's what you have to do for a catchy email template:
Include a good opening line with a specific viewpoint.

At least one detailed body paragraph should be included. (who, what, where, when, why)

Finish with a brief conclusion that reiterates why your idea is useful to the reader.

Use proper spelling and grammar.
Build your campaign
You've got an email loaded and ready to go; all you have to do now is press the send🔘 button. 
But☝: Before that, you must organize the rest of your campaign. This involves determining your email schedule and what your follow-up emails should contain.
While you could do it manually, there are tools available to help you automate the process. An email outreach tool like Sales.Rocks, for example, may send your initial email and follow-up emails for you on autopilot.
Example: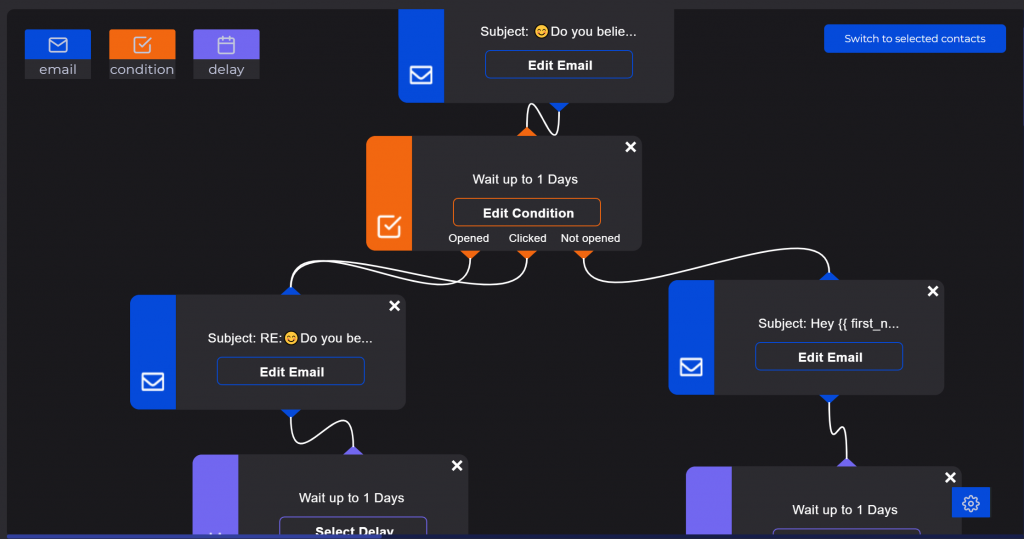 There are a few things to keep in mind while creating your campaign: You must understand when and how many emails you should send, as well as a few other important points.
Receivers time schedule

( Consider the receivers' time zones in the email sequence ).

Waiting time before sending follow-up emails

( It is best not to wait too long before sending a follow-up email.

Example:  Day 1:

Send your first email,

Day 2:

Send your first follow-up email,

Day 4:

Send your second follow-up email, etc.  You must be careful not to bombard💣 your receivers with messages ).
Spam filters

( When writing your messages, avoid using phrases that may activate spam filters ).
Personalize

( Personalize the subject line and email content for maximum effect ).
For more information about the drip campaign: Crafting the Best Email Drip Campaigns Like a Pro
Launch your campaign
Consider reviewing your email content one final time before sending it, either by reading it out or asking the help of a colleague, to assure that it is error-free. Tuesday is the ideal day to begin your campaign, and the ideal intervals are between 8 and 10 a.m. If you need to begin your campaign sooner for other reasons, don't be afraid to do so.
Track your performance
Tracking👀 the performance of your email outreach campaign is essential for future campaigns to be even more successful. It is important to check and analyze the campaign, outreach templates, and launch activities to determine whether or not the strategy you used is performing well.

After your initial email outreach campaign is complete, you can assess its performance, record your metrics ( reply rate, delivery rate, click-through rate, emails sent), and decide what, if any, changes you should make before starting the next one to a new email list of prospects.
Conclusion:
Ready to rock your email outreach?
No matter what your outreach goal is, whether it's to gain collaboration opportunities with niche influencers, get a backlink, or close a sales deal, having a winning outreach strategy that gets results is important.
Remember, the effectiveness of your email campaign depends on the quantity of time, effort, and resources you give to it. 
This strategy includes a number of little but important tactics that you will need to carefully study. If you miss something, you will not be able to finish the outreach effectively. It's like a chain reaction, with each element going one by one.