One of the most effective ways to attract potential customers to your website is through search engine optimization (SEO). But, there is one thing – you have to know how to use it in the right way!
SEO is often separated into two categories. There are two types of SEO: on page vs off page. It's impossible to oversimplify things by focusing just on one dimension. Both on page vs off page SEO must be considered in your SEO strategy.
People often ask questions like:
Which one is better? On page or Off Page SEO?
What's the difference between them?
How can I combine both?
Are they even worth the time and effort?
What is the difference between these two types?
Understanding what goes into on page vs off page SEO will raise the quality of your content while also increasing its ranking potential.
In this article, we'll answer all these questions and more. We will also show you a few examples that demonstrate how each type of SEO works.
So let's get started with the basics of on page vs off page SEO.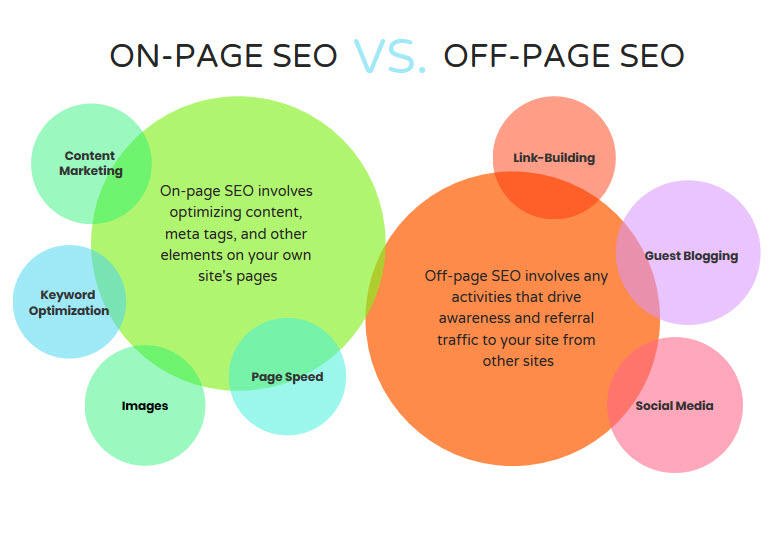 On-page SEO is a strategy of optimizing individual web pages to improve their search engine rankings and earn more relevant traffic. This involves optimizing the HTML, internal links, metadata (meta title, meta description, and keyword density) on a page and uploading high-quality, relevant content and images.
In fact, on-page SEO has the strongest (ROI) of nearly any digital marketing strategy due to its low cost and long-term benefits, which may help websites grow and attract passive traffic for years.
On-page SEO is important. Without it, your site may be losing out on important possibilities to rank for search queries related to your industry. Competitors may drag your site down search results if you don't have an SEO strategy in place.
1.Content
The content on your pages must be useful to people. They need to be able to find what they're looking for. No one will visit your site if the on-page content is bad. It must be simple to read and useful to the end-user.
Google uses several methods to determine whether or not your content is valuable.
Webmasters suggest you extend your content length of at least 500 words. Google appears to prefer pages with a lot of great content surrounding your targeted keywords.
Each page's copy must be unique, not copied from other pages on your site, and should directly answer your visitors' search queries.
It is also suggested not to avoid putting the keywords, in the beginning, if possible.
2. Keywords
Keywords are one of the most important elements of on-page SEO. They help search engines figure out what a page is about.
One of the most important initial tasks in any SEO strategy is to research and construct a list of keywords to target. This is an ongoing and ever-changing process.
Long-tail keywords have become increasingly popular since they better reflect today's internet users' search patterns. Consider your target audience and the keywords they're looking for, and then build and optimize your website content around them.
3. Title Tags
The title tag is one of the most important web SEO elements. Title tag refers to a web page title or the main heading that appears in the SERP.
The title tag should be short but informative, allowing visitors to learn more about you. The title tag should be added to the first heading of your content. That will clearly explain to the reader what the content is about. Keep it to 65 characters or less (select your words carefully!) for the title. In the title tag of each page on your site, include your chosen keywords. Don't stuff your keywords.
4. Meta Description
Meta Description A meta description is a short piece of text that informs search engines and website visitors about the content of the page. Each page's meta description is unique, has the target keyword, is between 135 and 160 characters long.

5. ALT Text
Image alt text is the text that shows when your website's images aren't shown. This text isn't visible to the normal visitor; nevertheless, screen reader software uses it to help blind internet search engine crawlers understand what your images are about.
Search engines crawl images in the same way they crawl text. So, including some important keywords while precisely describing the image can help search engines in understanding the content of your page.
When writing alt text, keep the following in mind:
Use 8-10 words to describe the image
Include your chosen keyword in the most natural way possible.
Include a geo-locator, if possible ( ex. Rotterdam)
6. URL Structure
For today's marketers, an organized URL structure is important since it helps search engines simply crawl from page to page on your website. Keywords should be included in URLs that relate to the websites they link to.
URLs should be short and contain only your main keyword for that page, with no extra words. Don't repeat keywords in your URL more than once. ( Keywords are helpful but overdoing affects user experience ).
7. Internal Linking
Internal Linking Internal links are those links that point from one page to another on your site. These kinds of links to other pages on your website are helpful to both users and search engines.
When creating internal links, make sure the anchor text is relevant. The clickable text in a hyperlink is called anchor text (usually indicated by different font color and underline).
Make sure the word or phrase you use is relevant to the website you're linking to optimize your anchor text.
Search engines can quickly index your web pages, understand what your site is about, and navigate the structure and content of your website with strong on-page SEO. 1-3 relevant internal links should be included in the content structure of your page.
8. Schema Markup
Adding structured data improves Google's understanding of a page's content. Certain sorts of structured data are also used by Google to present "rich results" in SERPs.
Rich results are frequently seen at or near the top of search engine results pages and have greater click-through rates than standard organic rankings. They also provide a Rich Results Test tool that you may use to double-check your code.
Google prefers schema.org vocabulary for structured data and recommends the JSON-LD format.
There are several types of Schema Markup, some of which are more relevant to a specific eyes focus than others:
Search Results
FAQ Page
Job Posting
Local Business
Business Function
9. Core Web Vitals
The long-term success of a website is determined by the user experience. Google introduced Core Web Vitals in April 2020, a collection of signals that the company considers "important" to all users' web experiences. But Google's page experience update took place now in June and Core Web Vitals became ranking factor.
Each Core Web Vitals represents a distinct aspect of the user experience and reflects a visitor's experience. The set currently includes three aspects of the user experience: loading, interaction, and visual stability.
Read More:  Top On-Page SEO Companies & Services India
Off-page SEO refers to factors that affect your website's ranking. A good off-page SEO strategy will raise brand awareness, increase content engagement, and highlight your site's importance to SERP users.
Many of the decisions you make in your on-page SEO strategy will influence your off-page SEO.
Some of the most common off-page SEO factors are listed below:
1. Backlinks
The amount and quality of backlinks to your site are without a doubt the most important factor in off-page SEO. The more sites that link to your content, the more domain authority Google gives your site, which helps you rank higher. So, link building is the king of off-page SEO, plus there are many other things you can do off the website to get it to rank higher, such as good old PR, social media marketing, etc.
The following are some examples of how you may increase the number of links to your website:
Making fresh content that people want to link to because it's useful.
Shares of your quality content on social media that result in links
Sending outreach e-mails to industry influencers with a link back to you.
Guest posting on sites that are connected to yours is a great way to get your name out there. Links back to your website will be included in these guest posts.
While link quantity is still important, content writers and SEO specialists are increasingly discovering that link quality has overtaken link quantity.
How many high-quality links are required for successful off-page SEO?🤔
That's a tough question, and the answer will be based on your competitors' domain authority since you want to make sure you're in the same field.
2. Domain Authority
Search engines use domain authority to determine how authoritative your site is. It considers a variety of factors before giving a score to your site on a scale of 0 to 100, with 100 being the most authoritative information for any particular search. There are few tools that determine your domain authority such as Ahrefs, Moz, Majestic, etc.
The amount of time you've had your domain name (the longer the better), the history of the domain name, the number of backlinks, the organic traffic, CTR's, the keyword rankings, and the number of 404 pages are all used to determine domain authority.
The more valuable your content is, the stronger your domain will be. Relevant content has keyword phrases, it attracts traffic and is linked to because it is useful, and users can quickly analyze the information and engage with it.
3. Social Sharing
Many people mistakenly believe that social media has SEO power. Social signals aren't a direct ranking component, according to Google. When it comes to rating a website, Google seems indifferent by the number of Twitter followers, Facebook likes, or content sharing on social media.
Indirect SEO benefits from social media include:
Online visibility has resulted in more inbound links and brand mentions.

Brand awareness has improved as a result of greater brand exposure to a larger audience.

Social media assists in the growth of your website's audience.
Even though social media may not have a direct impact on page rankings, don't ignore it. You may use social media to grow your site's audience, and social selling may help you make money.
A piece of content can go viral thanks to social media. People will automatically connect back to you and mention your brand as a result of a viral loop.
4. Guest Posting
Guest posting is an Off-Page SEO tactic that boosts both your SEO and your overall brand. It also requires a considerable amount of time and work.
Guest posting should be an important part of any digital marketing plan. Here are some things to think about:
Promotes your company as a subject-matter expert.

Increases your visibility and allows you to connect with new people

Referral traffic is generated via guest posting.

Creates connections with leading experts and other significant persons in your field.
Guest posting may help your website's SEO by increasing brand mentions and backlinks. The idea is to provide high-quality material that people want to read.
Which one is more important?
Both are very important.
On-page and off-page optimization work together to boost your search engine ranking.
However, before focusing too much on off-page SEO, SEOs recommend having your on-page SEO priorities in a row. By balancing the two, you'll be able to make your website "bilingual," meaning that both your users and search engine robots will be able to understand it, and your search ranking will begin to rise.
To get the best results it's better to separate the team into two sides: on-page SEO specialists and off-page SEO specialists. The on-page SEO team can focus on optimizing parts of the website that are within their control, while the off-page SEO team can focus on increasing the authority of the domain through high-quality content creation and building backlinks from other websites.
You can also ask the help of an external agency such as Backlinker, and in that way can help you align goals.
Conclusion:
You're giving your website the best chance to rank in the SERPs by blending on-page and off-page SEO. You build a site suited to certain keywords with on-page SEO, and you make sure people are aware of the content you're creating with off-page SEO. An off-page strategy that should be at the top of your list is creating an external link.
When you combine these two strategies, you can create a more comprehensive and effective SEO strategy. By focusing too much on one or the other, you may miss out on possible ranking benefits.