As a small business owner, you may consider Local SEO services for small businesses to be a waste of money. You might think it's not worth your time. You may also be unsure why Local SEO services are important for your small business. SEO's significance is continually increasing and spreading into new fields. It used to play a significant role for large and midsize companies. Now it is also important for small businesses.
Local Search engine optimization (SEO) is indeed an essential part of building a solid base for small business growth.
Besides, Local SEO helps you manage your brand reputation so that it presents your brand and service in the best possible light for the search engines.
Doing quality backlink exchanges with other websites in your niche strengthens your brand's place in your specific industry and leads you on the right path to becoming an industry leader.
Small business SEO statistics (2021)
Small businesses are unsure if SEO is worthwhile, choosing to focus on marketing tactics that yield faster results. As they look for long-term alternatives to traffic growth and brand building, small businesses weigh the benefits and drawbacks of investing in search engine optimization (SEO).
According to The Manifest statistics of 2021: 
Only half of the small businesses (49%) invest in SEO to increase their exposure
31% of small businesses say no but are planning to in the future.
18% of small businesses say they would never engage in targeted SEO activities such as link building, content development, or keyword research.
What are the benefits of local SEO for small businesses?
Many people believe they understand what Local SEO is, but it is much more complicated than it seems. Local SEO is important for small businesses because it makes your product or SaaS solution visible to your potential customers by ranking your content on the first pages on Google for your main keywords.
Even when your relevant content, product, or service is fantastic, if your business doesn't appear during a search query, no one will know about it or purchase it. So, your visitors will be more interested and have more trust in your business if you provide helpful content. The higher your website ranks, the more visible your small business becomes! For example, Local SEO will help your small business appears in these results when anyone searches for something important, you'll get positive ratings.
You don't want your website just to be visible on Google, you also want it to show up for specific and relevant searches.
The use of several main components of content marketing is needed for effective Local SEO for small businesses.
Keyword research
Keyword research is the process of determining which search terms and phrases your future customers use. ( We always start by building a big list of keywords. )
We at Backlinker use the Keyword research tool:
Ahrefs
(Keywords explorer – it's an online tool) to help us guide our keyword research strategy. Significant information such as Keyword Difficulty, Search Volume, Clicks, and Global Volume is shown. You also get suggestions for alternate keywords, search suggestions, and newly discovered keywords that are gaining more online traffic. It's also a good idea to use keywords with a low volume of difficulty in the beginning phase because they're not hard to rank for. The more high-volume keywords have, the more height (backlinks) you'll likely need to rank. If a keyword has a higher difficulty score than I want it to have, I normally find a way around by turning it into a long-tail keyword/phrase, which is more specific and easier to rank for.
For example, I searched for business SEO for small business keywords and didn't provide me with what I was looking for because the keyword difficulty was avg,(37), but the search volume, was higher than what I was looking for. So I started searching for keyword ideas based on search volume and came across local SEO for small businesses, which was pretty much what I was looking for, with a lower than the previous attempt search volume,(31), and with not too difficult keyword difficulty.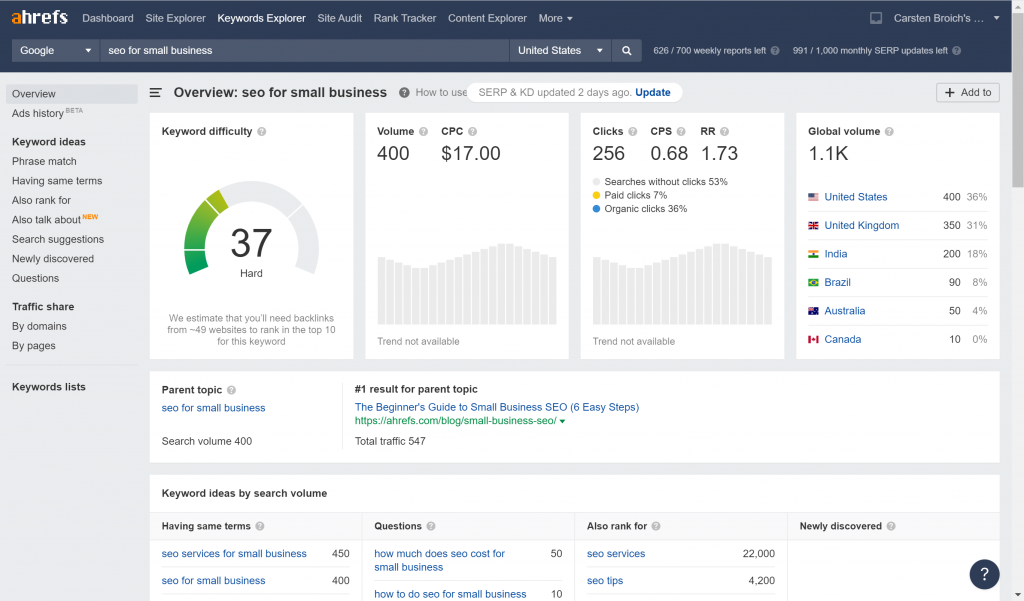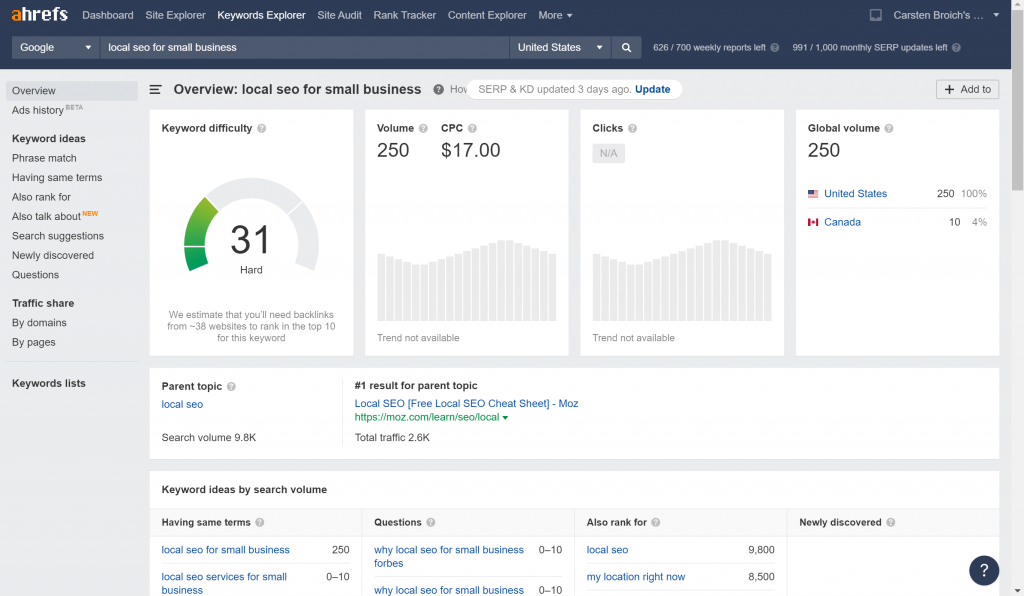 Copywriting
Is a digital marketing strategy that focuses on developing and delivering useful, appropriate, and reliable content to attract and maintain a clearly identified audience and, eventually, to drive profitable consumer action. (I'll start from the base and tell you that you must be focusing on some of these elements to write great copywriting: you have to be Grammatically sound, to prevail persuasion skills, research skills, write compelling headlines and know your audience.
Creating quality content on your website can give you a boost in search rankings.
If you want to create high-quality, Google-friendly content you must think of a headline that will attract people's attention and push them to click and read more. Also, you must target keyword phrases if you want to write the best content that will rank well in Google. For example, to choose a good topic and keyword for your article you explore the existing content properly. Do you already have any articles on a similar topic, that can be updated? Or you need to start from scratch? In both cases, you need to find the best content ranking articles on google. How can you do that? Just do a simple google search with the chosen keyword, or use a tool that can give you a good SERP analysis and content overview.
Once checked, examine those articles and make a skeleton for your own, that will contain enough new, and updated information on the topics, for you to be able to outrank the existing content. Pay attention to the structure of your content. Adding proper headings and subheadings, good readability, and on-point content can make a pretty good candidate for ranking high).
One thing you should remember: In content writing quality is more important than quantity when it comes to keyword performance.
Link building
Link building is the method of obtaining links from other websites to your own since links prove to Google that your website is a reliable resource worth citing. Links are important for Local SEO because they increase your local ranking, which increases the chance to get into Google's local three-pack.
Usability and UX
If your website is clumsy, sluggish to load, or difficult to navigate, SERPs will downgrade you. Furthermore, a well-designed page would also hold visitors to your site for a longer period of time. Also, UX (user experience) optimization is crucial because it can boost retention. You'll avoid losing users due to a bad user experience if you optimize the website for user satisfaction.
Why do Small Business owners need Local SEO?
Local SEO for small businesses enables you to publish essential information about your small business, such as its business address. business phone number, business hours on the internet ( to do this set up your NAP which stands for name, business address, and phone number). This helps to improve your business's online visibility, which can help people in the area become more aware of you.
The largest difference between just SEO and Local SEO is that for this one you will need to use long-tail keywords to specify where your brand is active. If we search on google for just "data services" it'll give us results from thousands of companies worldwide that work with data. But, what if we want specific data for the Netherlands, or even from a specific dutch city? You would then just go and type in "data services the Netherlands" in the google search.
Now, this is the important part: If we are small business owners, and don't plan just yet to step a foot on the international market, Local SEO for small businesses is important, because it gives you the chance to rank in the results and to get brand exposure easier, but still, get the right and targeted customers. (and we know everyone likes local brands more since communication is easier and locality makes the brand much more reliable).
Local SEO small business Ultimate Guide to get your site ranking!
How can we achieve a good local search ranking?
If you're working on business SEO for your small business, in terms of search algorithm there are several search ranking SEO factors that can help your site rank higher. To provide the most boost for your content marketing, consider the following SEO techniques for small business websites.
Focus on technical SEO
Technical SEO is what tells search engines like Google that you have a high-value website. Technical SEO is important because if your website is completely optimized, Google will have an easier way to detect your content, and you will be more likely to rank higher as a result. Since Google and other search engines want to provide their users with the best results possible. Keep these things in mind if you want your Technical SEO to be refined :
Create a sitemap and submit it to Google
Remove any old pages that aren't performing well
Repair any broken or outdated links
Optimize your images
Focus on Local SEO
Local SEO so interesting is that it can rate local search results in a variety of ways:
Create a Google My Business Account ( The successful local SEO strategy starts with Google My Business account. It is the most important business directory. Google My Business listing is what shows up in the local pack and is one of the most important ranking factors for Google Search. Also, there are two recent additions to what Google My Business offers, and those are business descriptions and posts).
Get Regular Reviews from Happy Customers ( There is Positive and negative review. Positive Reviews are essential to signal factors for SEO. In general, Reviews serve to separate the positive from the negative in terms to help customers find the best local business for their needs. However, when it comes to negative reviews take correctional measures to make it up to your customers who leave negative reviews. )
Optimize Your Website for Mobile ( 61% of all Google searches are performed on mobile also, 82% of mobile searches are local. In this case, you can't ignore the importance of a mobile-friendly website. Google uses the experience of mobile users to rank your websites on all devices. )
Use Location Pages or a Location-Specific "About Us" Page (If you Add Google Map to your website on your location pages you'll get big-time bonus points. Google Maps plays a big role in helping people connect with your business)
Rank for local long-tail keywords
Figure out what consumers are searching for by using keywords
Consider terminology outside your own
Consider using SEO tools ( Local SEO tools can help track rankings, competitors, and keywords )
Take a look at the terms people use in product reviews
Optimize On-page SEO
On-page SEO is the process of optimizing individual web pages to improve their search engine rankings and generate more appropriate traffic. On-page SEO is also important since it helps search engine algorithm in analyzing the website and the information it offers. Keeping a close eye on these few tips to enhance your content strategy, boost your ranking and traffic:
Page titles and headlines should be optimized
Use the correct header tags
Make sure your meta tags are clean
Don't forget your images and their alt-text
Make sure your website navigation is good
Content marketing should be streamlined
Use templates
Videos
Use social media and other distribution platforms to your benefit
Build Authority With Links
Guest posts ( Find guest post opportunities. You can find guest post opportunities with local SEO tools like Ahrefs and Ubersuggest. )
Ask employees for links
Testimonials
Target keywords in your content & free tools
Don't forget your internal links ( It is helpful to add internal links, they boost your SEO rankings. Giving an internal link to the right phrase will help in improving the bounce rate. )
Small businesses, in particular, are wary of devoting too much time and effort to an SEO strategy, which necessitates patience and hard work to yield long-term results. SEO is an important part of increasing organic search traffic and brand awareness. Small companies will lose out on vital sales if they don't boost their SEO presence, as search engines account for 93% of all purchasing experiences. Local SEO for small businesses is key to improving your conversion rate.
Conclusion:
Local SEO for small business websites can seem like an unnecessary distraction for the owners. But, local SEO services for small business does magic to brand building. However, the longer you wait, the lower you will likely rank in search results, having a greater effect on organic traffic. So if you work more where your business is located, most of your SEO marketing efforts will be Local SEO efforts.  Local SEO for small businesses is key to improving your conversion rate. If your looking for local SEO services – contact us. Our SEO specialists will take a deep dive into your business, creating an SEO program aligned with your business objectives.