If you are a small business owner, you should really consider Local SEO. You might think it's not worth your time… You may also be unsure why Local SEO services are important for your small business. 
However, SEO's significance is continually increasing and spreading out into new markets. SEO played a significant role for large and midsize companies. Before, only larger companies and businesses had the resources to invest in brand awareness and visibility, but thanks to google SEO now even smaller businesses can enjoy the benefits of optimizing their online presence.
Local Search engine optimization is indeed an essential part of building a solid base for small business growth. 
Besides, Local SEO helps you manage your brand reputation so that it presents your brand and service in the best possible light for the search engines. So in the following, we will discuss Local Seo: why it is important for small businesses and what makes it different than general SEO.
What's the difference between SEO and Local SEO?
Local SEO is a branch of general SEO. The largest difference between just SEO and Local SEO is that for this one you will need to use long-tail keywords to specify where your brand is active. If we search on google for just "data services" it'll give us results from thousands of companies worldwide that work with data.
But, what if we want specific data for the Netherlands, or even from a specific city?
You would then just go and type in "data services the Netherlands" in the google search. Now, this is the important part: If we are small business owners, and don't plan to the international market anytime soon, local SEO is important for your small business. It gives you the chance to rank in search results and to get brand exposure easier, but still, helps you get the right and targeted customers. (and we know everyone likes local brands more since communication is easier and a close location makes the brand appear more reliable).
Why Local SEO is important for small businesses?
All businesses require local SEO since search engines have realized that many users are looking for specific services and products near them. According to Google, 46% of searches now have 'local intent. This means that potential customers are looking for your business and the services you offer in your area, and if you boost your local SEO, your business will be the one they find and visit. Using a local SEO is important for your small business, because: 
Local SEO increases your website's visibility
When a user searches for a specific type of business in their area, Google gives out a list of top-ranking businesses that fit their requirements. In this case, Google takes into account a variety of factors that play a major role in what users see in the search results. The top-ranking results are usually businesses that have implemented Local SEO which is they are displayed in the search results. So, if you implement Local SEO for your website, you increase the chances of your business ranking higher in Google's search results. Another of the top local SEO benefits is that besides helping you rank higher, it helps you earn more trust. Example: Coffe shop in Rotterdam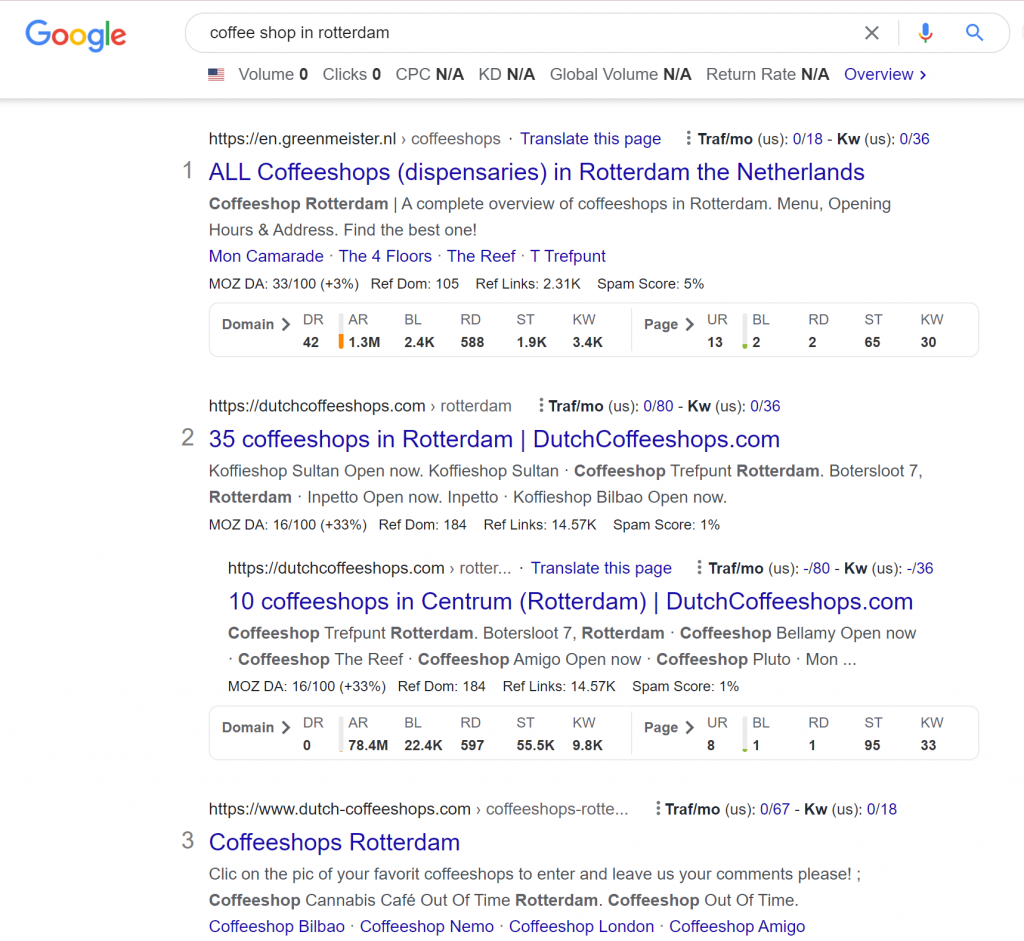 The number one success factor in your business is you, customers. But, attracting new customers can be tricky, especially if your business is small and/or new. People may not even be aware that your business even exists, so you'll need Google's help to get noticed. With Local SEO, you can outrank even your local competitors. This can be a game-changer for your business, skyrocketing your visibility🚀 and attracting new customers🧲.
Increase organic traffic to your website
When your website starts to rank high in search results, it attracts new customers, and gains brand visibility, meaning it increases the chance of getting clicks or organic traffic flowing into your website. Ranking high in search engine results will deliver more value for your business. People can find you with ease online from the organic results. Again, this means you can expect an increase in organic traffic to your site.
Increase your Conversion Rate
A perfect marketing strategy incorporating Local SEO can also increase your conversion rates. It helps to improve conversion rates and makes it easier for potential customers to find you when they are looking for businesses like yours. This means that more transactions or engagement with potential customers will happen, and the conversion rate will increase.
Improve your Brand Awareness
Brand Awareness is considered to be one of the essential factors for the continued success of your business. Local SEO may help your company gain a good reputation.
This might include reaching out to websites for features, asking clients for positive reviews, submitting guest posts, or otherwise improving your online reputation and mostly building links. You should make sure sure that your website copy and the content you are producing are relevant for your desired customers. 
Local SEO is a powerful tool for building not only your brand visibility but your brand reputation as well. This is due to the fact that  Google and other search engines focus on displaying businesses that demonstrate a reliable ability to meet consumers' needs.
Helps mobile users easily find your business
Over 80% of internet users use mobile devices to surf the web. In fact, Up to 70 percent of web traffic comes from mobile devices.  Because mobile devices have the added benefit of location services, you can be found by someone near you even if they don't live in the area. So if you're trying to get your business found by customers who are researching their next purchase, focus on:
Creating Google my business account

Make sure to get reviews from happy customers

Optimize for Voice Search

Create content based on Local News stories 

Optimize your website for Mobile

Use Location Pages, etc. 
Make sure your business is found on Google Maps
Local SEO involves optimizing your website to rank higher in Google Maps and attracting more customers through your Google My Business profile. Google My Business is a free platform from Google that allows you to share your business address, contact information, website URL, images, reviews, and more in order to get direct calls, engage leads, and score more sales. Without a local presence, you risk not getting found by potential customers who are looking for businesses like yours in their local area. 
Tips to improve your Local SEO
Keyword research 
This is the process of determining which search terms and phrases your future customers use. We at Backlinker use Ahrefs (Keywords explorer)  to help us guide our keyword research strategy.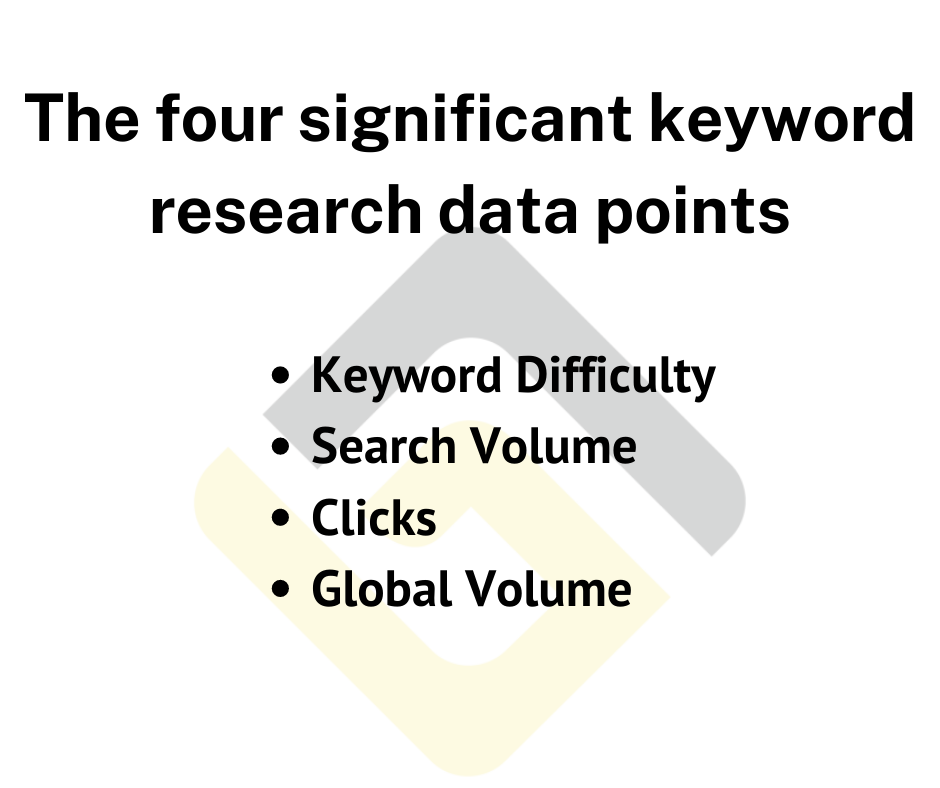 You also get suggestions for alternate keywords, search suggestions, and newly discovered keywords that are gaining more traffic. It's also a good idea to use keywords with a low level of difficulty in the beginning phase because they're not hard to rank for.
The higher the number, the more (backlinks) you'll likely need to rank for them. A nice workaround I use is this, if a keyword has a higher difficulty score than I want it to have, I normally find a way around  by turning it into a long-tail keyword, which is more specific and easier to rank for.) As an added bonus, long-tail keywords often denote a higher intent in terms of conversion.
For example, I searched for business SEO for small business keywords, and didn't provide me with what I was looking for because the keyword difficulty was avg,(37), but the search volume, was higher than what I was looking for. So I started searching for keyword ideas based on search volume and came across local SEO for small businesses, which was pretty much what I was looking for, with a lower than the previous attempt search volume,(31), and with not too difficult keyword difficulty.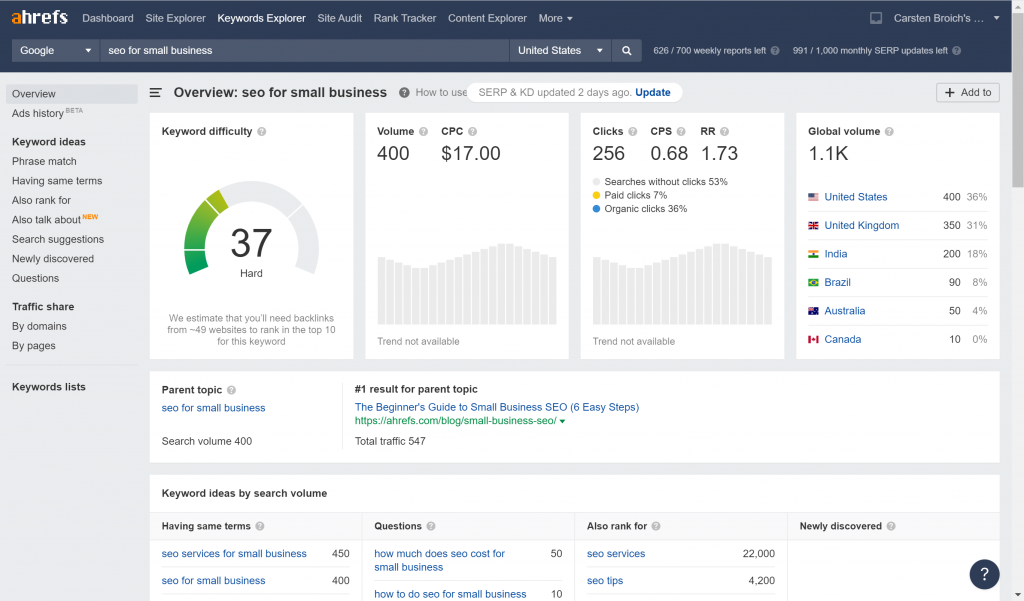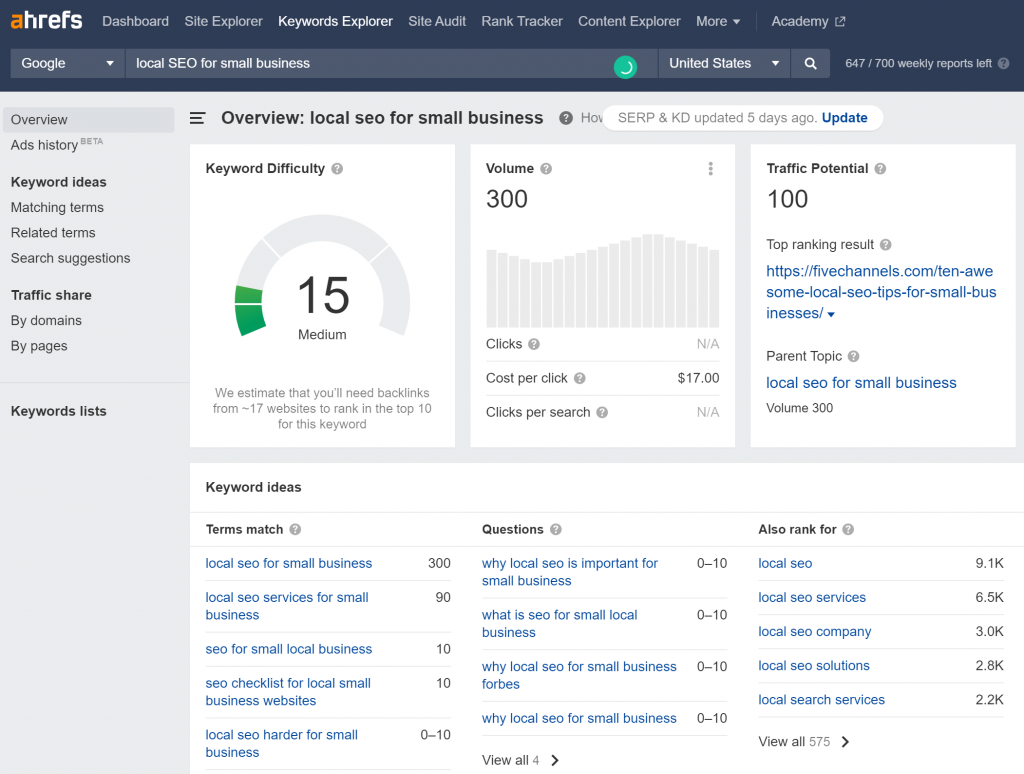 Link building
Link building is the method of obtaining links from other websites to your own since links prove to Google that your website is a reliable resource worth citing. Links are important for Local SEO because they increase your local ranking, which increases the chance to get into Google's local three-pack. In order to rank higher and qualify for the local three-pack, you need more than just a bunch of links; you need high-quality backlinks. For Local SEO you can search backlinks in:
Google My Business Listings

Local Press

Sponsoring Local Business

Business Directories

Share Local Resources
Usability and UX
 If your website is unoptimized slow to load and difficult to navigate, SERPs will downgrade you pushing your business further down in the results. A well-designed page helps with attracting and keeping visitors to your site for a longer period of time. In other words, an SEO-optimized website can help tremendously with your bounce rate Also, UX (user experience) optimization is crucial because it boosts visitor retention as well. Avoid losing potential customers due to bad user experience. Optimize the website for user satisfaction and provide them with a great experience while they're on your website.
Conclusion:
Does your small business need Local SEO?
Absolutely YES! ✨ 
With Local SEO, you increase traffic from consumers in your specific service area, which means you'll get a higher website ranking, online visibility, conversion rate, etc.
Local SEO services for small businesses do magic to brand building. However, the longer you wait, the lower you will likely rank in search results. If your looking for local SEO services – contact us. Our SEO specialists will take a deep dive into your business, creating an SEO program aligned with your business objectives.