When you first launch a website (or start learning SEO), there are a bunch of primary focuses that you must have in place. Consider the following:
Keywords research

Title tags and meta tags optimization

Creating content that is optimized ( Optimize of your readers, not only search engines. Please your buyer persona, and you'll automatically please the search engines.)
But what happens next?
You'll need to increase🔝 your organic visibility and traffic.
Search engine bots can help you produce organic traffic and visibility to your website if done correctly.
Every business wants to ensure that when a potential customer searches for a product or service similar to theirs, they come across them rather than a competitor.
I believe that hundreds of thousands of other questions are spinning🔄 in your head like:
What is organic traffic?

What is an organic traffic example?

Why is organic traffic important?

How to get more organic visits? (Basically, if a visitor visits your website without seeing an ad or something, it will be counted as an organic visit.)
 Issues you might have
If you're a website owner or content marketer, you've probably seen this happen a few times:
Your website isn't increasing organic traffic.

You're probably thinking about what causes the low organic traffic.
Here are some of the most frequent issues you might have:
How can you expect people to find your website if your content hasn't been optimized with relevant search terms and keywords?

Your blog content is not fresh

If you aren't getting backlinks ( Link building is a smart way to boost organic traffic. 91% of the pages get no organic traffic since they don't have backlinks. If you don't do it right link building can lead you to penalties, account suspension, etc.)

If you don't have an internal link on your website ( Add an internal link from several other related posts on your site. The Internal link directs people to other relevant pages of your site.)

You don't have a social media presence
You go through the usual reactions whenever your organic traffic drops. There's a sense of anxiety, and concern about how to get things moving in the right way again. One thing is for sure: to avoid more ranking, conversion rates, and sales losses, it's better to get to the bottom of it as quickly as possible.
Also, are you feeling overwhelmed😵 by the infinite possibilities for driving traffic to your website? You're not the only one who feels this way.
Luckily for you, we have all the right answers to your questions.😊
Related article:  Best SEO Tips and Tricks for 2021
What is organic traffic?
Organic traffic refers to those users that land on your website as a result of organic search results. Organic traffic is free traffic, which is why it is the most desired form of traffic by website owners. It is important since it helps in the effective functioning of the website and can boost its popularity. 
Organic visitors land at your site after using a search engine such as Google or Bing. Traffic that comes to your site through any search engine appears as organic search traffic in Google Analytics. Search engine traffic is earned, not paid.
When it comes to getting more organic traffic: If you're ready to put the work in and increase your organic traffic the right way, here are some Effective SEO Techniques:
Optimize your pages for humans, not only search engines
Getting organic traffic to their websites is one of the most common mistakes businesses make when it comes to getting organic traffic. This technique is very important.😉
Because search engines rank your search queries, many businesses will try to optimize their websites to please them.
A saying caught my eye👁 a little while ago: " My rule of thumb is building a site for a user, not a spider. "- Dave Naylor
Google and other search engines look at metrics like crawling time, pages visited, and other indicators of how much a visitor loves your site. It means your site is valuable and relevant if someone stays on it for a long time.
Remember: " Google only loves💖 you when everyone else loves you first. "
If you don't optimize your website for your audience, you will risk losing them, falling to lower search results rankings, and getting less organic traffic. That's why you should keep this in mind and write for humans because search engines love it! The user experience of your site is one of the most important flags that concern your ranking, so you need to ensure that it's impressive. User experience will help to lower the bounce rate and therefore heighten your rating.
And in this way, you will get more organic traffic to your website!😄 Whoopee!
Use Long-Tail Keywords
Wondering how you can increase organic traffic in other ways?
Keywords are important in getting your pages in front of the right audience.
Don't only use the most popular keywords in your market. Use more specific keywords for your product or service.
You may find relevant keywords for your page by using the following techniques:
Use keyword research SEO tools to do keyword research

Focus on keywords relevant to the industry

Focus on long-tail keywords (three or more words)
Why long-tail keywords are key for boosting organic traffic?
You are more likely to attract visitors interested in your site if you target long-tail keywords rather than popular ones. Why long-tail keywords?
It's Easier to Rank (For popular keywords, there is a lot of competition, but for specific long-tail keywords, there is much less. They generally have a lower search volume, which makes them less targeted. Long-tail keywords have a lower search volume but often higher intent, meaning when people search for a specific keyword they are looking for a specific piece of information. (You should always keep in mind, analyze the search results, and user intent before the target keyword. Also to figure out user intent, enter your target keyword into the search tab and see what the top 3-4 results are talking about). Example: We use Ahrefs as a Keyword Tool and with this tool, you can search for long-tail keywords.
 In this case, the short tail keyword: " running shoes" has 122K search volume and
KD of 61, which means that it has more competition and is harder to rank.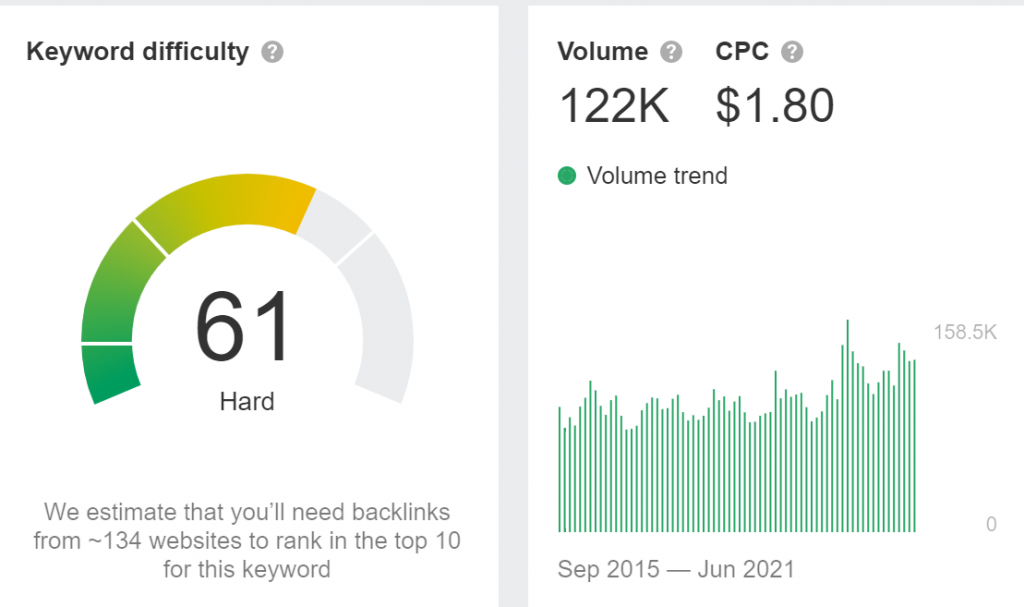 On the other hand, I'll take as an example a long-tail keyword "running shoes for kids" which has 800 search volume. It also has a low KD.)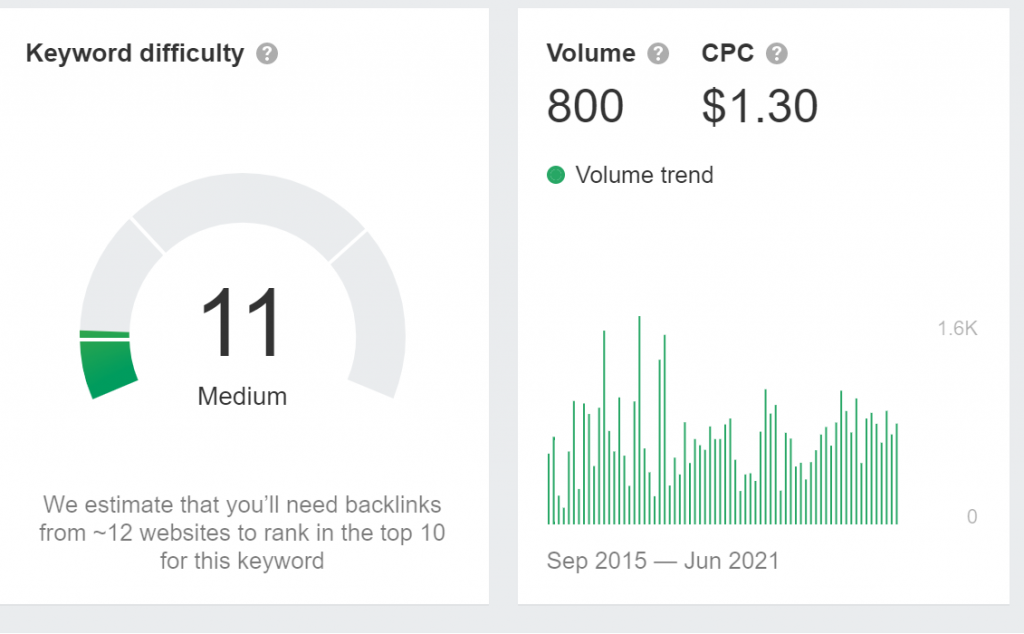 More Targeted Audience

(Because long-tail keywords are so specific, anyone looking for them is certainly looking for a specific purpose. It can be informational, educational, or making a purchase.)
So, finding the right keywords will help you increase organic traffic by bringing in more click-through rates and interested leads.
Consistently create a quality piece content
Make an effort to create SEO-optimized piece of content and always have in mind quality over quantity.
However, simply creating a piece of content for the sake of creating content, or because you read that posting frequent articles is beneficial for search engine optimization (SEO), will not get you very far. Your business is represented on your website, that's why you shouldn't be publishing content of low-quality.
What type of blogs can you create❓
How-to blogs

(An education blog is a blog that is specifically designed for educational purposes. As an online resource, blogs have a lot of educational potentials.)

Lists

(A list post is a type of article that is written in a list format. There are multiple reasons, tips, methods, shortcuts, secrets, types, methods, and trends listed.)
Informative blogs

( An informative blog will keep the reader on the page and, perhaps, entice them to read the entire article. When someone uses Google to look for your keywords, they are looking for answers. They may not immediately find the correct answer, but they will keep looking until they do.)
Promotional blogs

( This type of blog is typically used to inform customers about your product or service, as well as its numerous advantages. Example: Many companies start blogs in order to promote their products or services.)
I would suggest writing🖉 constantly ( Example: posting the schedule, content calendar at the same time every week). At the very least, try to do it once a week. Be consistent with content updating because I think if there is the easiest way that can boost your organic traffic, it's content updating.
Search engines love💖 frequently updated sites. But, more importantly than that, users love it too.
People are more likely to share, link to, and tell others about your content if you provide regular updates. All of these factors lead to increased organic traffic.
Remember:  The more high-quality content you create, the greater chances you'll have of attracting organic traffic. But, too much text can overwhelm visitors and they will likely increase your bounce rate. Provide enough to get their attention and then link back to relevant content on your website for more information.
Also, if your want to increase organic traffic to your website, you'll want to optimize your content to appear in the featured snippets. So, to increase your chances of appearing in the featured snippet, you need to focus on delivering an answer clearly and directly.
You can also create content that is likely to get shared, increasing your referral traffic.
Usually, choosing an agency that has experience in a given area is better than choosing an agency that does everything. For example, a video game marketing agency will organize a better promotion than an agency that will deal with this topic for the first time. However, video game marketing agencies do not waste time understanding gaming dictionaries because they hire people to work who are game geeks so they are not wasting time on research.
Traffic From Social Media
It is said that you do not exist if you are not on social media.😎
Having a social media presence on platforms like LinkedIn, Twitter, Instagram, and Facebook will serve to get your name and website URL out there on the internet.
Social media marketing gives another fantastic way to bring users to your site by connecting to blog posts or article pages.
Here are some steps to get traffic from social media:
Complete your personal information.

Make your CTAs more effective.

Make a statement about your social media goals.

Posting in a group

Publication of content on social media platforms.

In your social network profile, fill in all of the spaces.

Make content that is easy to share and that others will like.

If your target audience is on social media, post when they are online.

Visual content should be the focus.
If you follow the suggestions above it will not only bring your followers back to your website, but if they share your posts it will also drive new traffic to your page.
Earn Backlinks
Links to your site from other websites are known as backlinks (inbound links). These links help to increase the trust and authority of your website in your industry.
Backlinks are still one of the top three Search Engine Ranking factors for Google.
So, what's the best way to get more backlinks (inbound links)?
The best way to get backlinks is to write content that is relevant to your business. Blogging is the most effective content strategy to obtain backlinks. Why? How?
They may be shared on social media.

Write on a variety of subjects.

You can use a variety of keywords to target.

You may share them using email newsletters.
Also, you can reach out to a wide range of people who will link back⇄ to your postings on their own websites.
Guest blog for traffic, not SEO
Guest blogging is a method of writing for other people's blogs. Blogging is one of the most beneficial ways to boost organic traffic to your website. Why?🤔 
Because it helps SEO.
One thing you should always have in mind: When you blog, you're sharing useful information with your readers.
So, they reach your site and read your content when they search for this information using the appropriate keyword you've chosen. It allows you to attract more leads to your page by providing the information they are looking for.
The most critical part is that you give useful information to your visitors.
You can always look up what sites are currently doing well for the topic and the keyword you're focused on to get a sense of what type of content to include in your blog post.
When guest blogging, keep the following guidelines in mind:
Don't overstretch yourself.

(Search for authoritative sites with high-quality content and a good amount of traffic.)

Guest blog on websites that are related to your niche.

(If you're not reaching your target audience, guest blogging on famous websites is pointless.)

Promote your guest articles in the same way that you would for your own.

(This shows to the other website that you respect the opportunity to contribute to their blog.)
Return frequently and react to comments. You want their visitors to become your guests, ideally. Responding to comments is a fantastic approach to start building that relationship.
Link exchange ⇄
Link exchange is a method when two websites agree to link to one another. Increase link juice, trust, and authority to attract more organic traffic.
As a saying from Entrepreneur goes " Link exchange requests require minimal effort from you, but they can absolutely explode your traffic numbers overnight."
When does it make sense to exchange links?
When you have a similar audience, exchange links. (A link exchange is probably a smart option if your website's customers/users are considerably similar to those of another website.)

Exchange links to be useful to your users (By trading links, you're helping your users find good, similar content.)
A bad link exchange might be harmful to your website. Here's how to tell if a link exchange is a terrible idea:
The site that wants to trade links appears to be spammy or low-quality.

The site that wishes to trade connections with you is unrelated to your business.

Someone that wants to trade links will trade with anyone.
Landing Pages
A landing page is a single web page built to promote or publicize a marketing or advertising campaign. It's the place where a visitor "lands" after clicking on a link in an email or ads from Google, Bing, YouTube, Facebook, Instagram, Twitter, or other websites.
It is different from other pages on your website because it fulfills both of these requirements:
It includes a form for collecting visitor information in return for the desired offer.

The landing page's main purpose is to convert visitors into leads (a homepage does not count as a landing page because it serves other purposes as well).
What is the importance of search traffic to your landing page?
Well, a source of targeted traffic is search engines. People are arriving on your website as a result of a search for a topic relevant to the one you've covered on your landing page.
And another question is: What do you need to do to drive organic traffic to your landing page?
To get your landing page to rank higher for your target keywords, follow these steps:
Publish custom URL

Optimize your page Long-tail Keywords

Include your keywords in your meta description

Visuals and video content should be included in your copy.

Secure Relevantly and Trusted Links to Your Page

Speed Your Landing page Loading Time
Conclusion:
If you want to see your site's organic traffic growth in the future, you'll need to go beyond the basics and dive into an SEO strategy that will push your site forward. To be more visible to your viewers, a good search engine ranking is essential. If you want more organic traffic, you have to work for it. That means, going after opportunities your competitors have missed, being consistent, guest blogging strategically, and staying on Google's good side.
I've always been a believer that hard work gets the best results. Staying on top of the availability, information updates, and smooth transactions is key for any type of business.
Read more: Biggest SEO Myths You Need to Stop Believing