Building high quality backlinks from other websites to your own remains one of the most powerful ways to boost search engine rankings (SERPs) and improve the overall effectiveness of your SEO strategy. However, not all types of backlinks are valued equally.
When Google and other search engines evaluate a website, they analyze its content, backlink profile, and design architecture.
Google, for example, categorizes backlinks into three categories based on quality: low-quality, medium-quality and high-quality.
So… 
How do you effectively measure their strength? 

What is a good amount of backlinks for your website? 

How can you value them? 

What is an example of a backlink? 🤔
If you're not sure how to answer these questions, read on. I will also do a more detailed review of backlinks further down in this article. ✔️​
What are high quality backlinks?
High quality backlinks are links that help get your site to the top of SERPs. They help search engines guide page visitors to related websites with high authority and credibility, funnelling organic traffic, to high-quality content by using keywords as anchor text for the link.
Before giving the title of high-quality to a backlink, Google considers a number of ranking factors to determine its authenticity and quality.
Relevance
The relevance of a backlink is a key factor in determining its quality. 
The goal of search engines is to provide users with relevant content. A relevant backlink is something that is placed on a site/page that discusses the same topic as yours or is in the same niche. If a backlink doesn't seem right, it's definitely not worth it. Everything else would fall in line if you prioritize relevance.
Uniqueness
Build unique links that are important to the articles in which they appear. This ensures that the backlink technique is successful and profitable. 
Backlinks from authority-relevant sites that only talk about your website and not your competitors may be considered perfect link opportunities.
Traffic
It's important to put your link in a convenient position on the web so that visitors can click it and visit your site. The link's original purpose is lost when a link is not clicked. 
A link in a prominent location on a frequently visited page is considered high quality. It offers the website a constant stream of targeted traffic regardless of rankings.
Why are high quality backlinks important for SEO?
Backlinks are one of the two most important signals for ranking on Google. They signal that your content has value, hence why it's being linked to by another source. This means that the content is worthy of being ranked on SERPs. Also, the more backlinks a page has, the more search traffic it gets due to being ranked higher in the search results.
One good backlink is enough to boost your SEO ranking, but of course, the more the merrier!
Aside from traffic and ranking, backlinks are great for building page authority (PA). The ranking and the authority of a page go hand-in-hand. The greater your authority is, the better your pages' ranking will be and vice versa. 
Because backlinks increase the trustworthiness of your site, it also helps with crawling and indexing your pages. 
But, beware. Not all backlinks are good and you shouldn't take every single opportunity for a backlink. Bad backlinks can harm both your ranking and your page authority. Not only that but you will also get penalised. 
This happens when websites with low authority and ranking, and high spam scores link to your page. Also, watch out for links that are built without any editorial control or are built automatically.
There are many types of backlinks that are used for different SEO purposes. Right now let's stick to the ones that are high quality and how you can get them.
How to get high quality backlinks?
It's important to build a reliable and safe strategy for obtaining backlinks in order to not get restricted, penalised or blocked by Google's algorithms. That means getting backlinks from authoritative and relevant websites in the same industry. 
This is the part when quality comes before quantity.
1. Create detailed content
Creating amazing and valuable content is the best way to build links and is also a great ranking factor. Users must find the content to be of good quality, important, and useful in order to share a connection to it.
So, what motivates people to share your content? There's no other way around it, just create quality content, and Voilà, it will naturally attract links.
How do you create content that naturally attracts links? You have to do everything the right way.
Figure out the main idea of what you are trying to create. What is the point that you want to get across?

Start thinking about what your twist will be. Once you apply the idea, how will you give it a spin?

To come up with a great topic you can use a tool that will help you.
For example, we at Backlinker.io use Ahrefs. Aside from keyword research, we use Ahrefs' tool called Content Explorer where you enter a topic and it gives you a list of highly popular blog posts related to that topic and the target keyword.

Google favours content that is helpful and informative. Literally, try to cover all the information about the topic you're writing about.
An important thing about your content is that you have to update it regularly. Update your blog posts, which is the final phase in the content process for creating high-quality content that attracts backlinks from other blogs. Pay close attention to the best-performing blog posts, do keyword research, and update the content with the latest information.
What is the reason for this? Because old content brings a lot more traffic to your website.
2. Conduct competitor research
Competition is strong no matter what industry or niche your business is in. So you should always do competitor research. For each competitor backlink, try to understand how your competitor got that link.
First, head over to Google and look at the top search results for the keywords you're looking for. Also, you can check that directly from Ahrefs' Keywords explorer.
I'll take as an example the keyword "How to get high quality backlinks".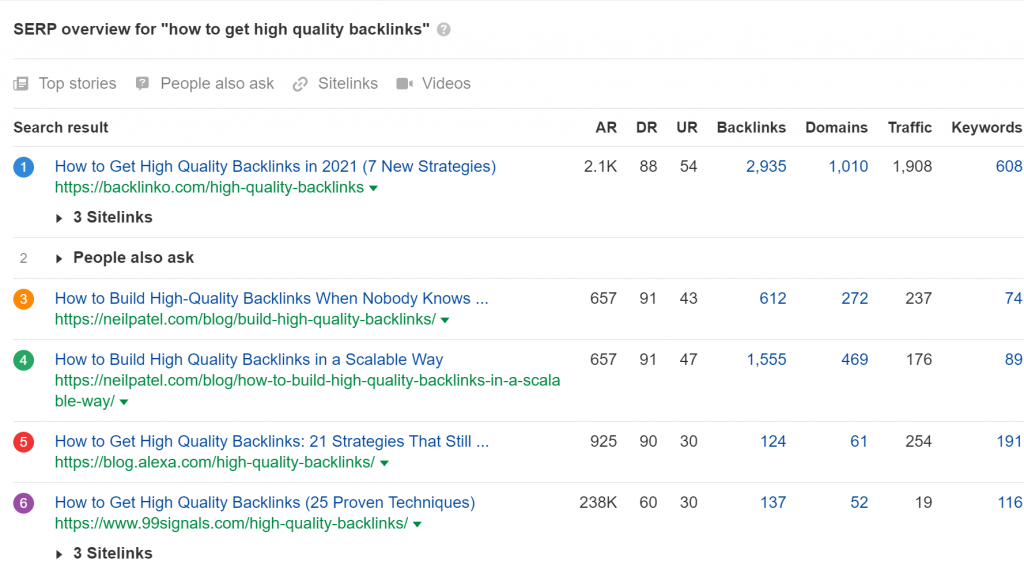 Add their domain to Ahrefs. There is a tool called Site Explorer.

Check their backlinks after you've accessed their website. I took Backlinko as an example.

After that look for the most important, high-quality links that you think you'd be interested in.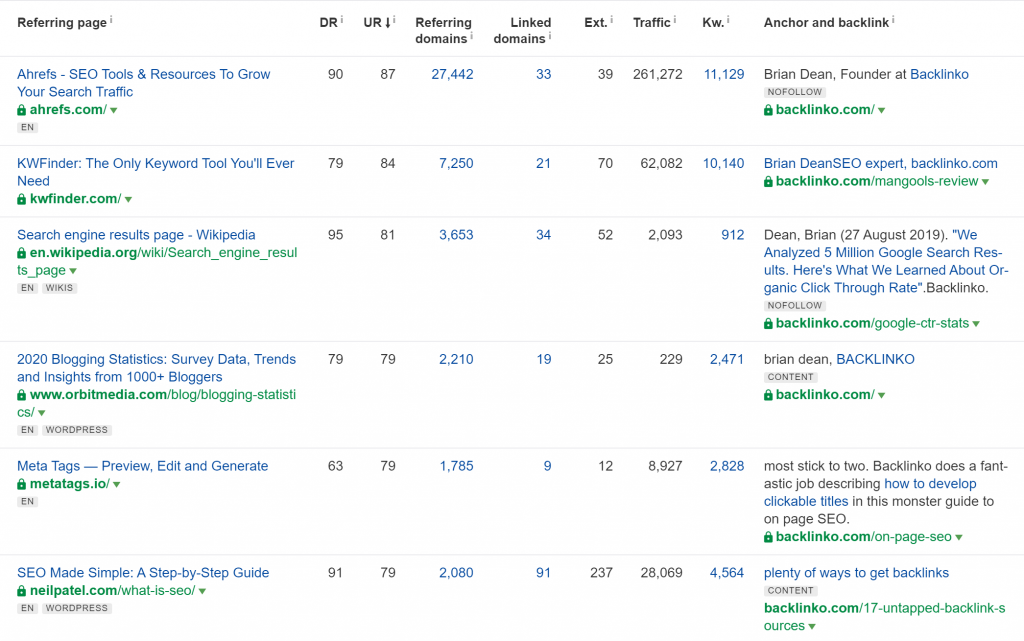 3. Building relationships with media and bloggers (getting interviewed)
There's a great way to increase your visibility, build your personal brand, and get backlinks to your website.
What is the way, exactly? Getting interviewed by bloggers, reporters, etc. Many bloggers (including experts) often post interviews with other bloggers in their industries. 
How to get interviewed by bloggers in order to get backlinks?
Reaching out to someone is one of the easiest ways to get interviewed. When you don't have a strong personal brand but have amazing content or results on your blog, you should reach out to other bloggers to be interviewed.
Meanwhile, when answering the interview questions, make sure to link to any of your blog posts. This will allow you to get several links at the same time.
Also, being published in the news offers good visibility for the business and it will immediately increase your business's publicity and visibility.
In addition, media websites usually have a high DA, meaning that they have a good amount of quality backlinks. But one thing you have to remember is to watch out for scammy websites, PBNs, black hat SEO, etc.
4. Do original research
Another perfect way to build backlinks is to do an original study. You are a valuable resource if you have information that no one else on the Internet does.
Also, if other writers or content creators wish to cite your research, they will include a link to the source. This means that you'll get a backlink. Hooray!
5. Broken Links
These are links that lead to pages that no longer exist.
A broken link-building strategy is all about finding broken links on other websites, then contacting the webmasters to ask them to repair the links and replace them with your own.
So, how can you find broken links on other websites?
Once you find those links, reach out to the corresponding blogger and let them know.

Share related links from your site that the owner of the site might use to replace the broken ones. 
Boom! You've earned yourself a backlink.
Quick Note: You can send emails to up to 10 people per day to get backlinks. But not all bloggers will agree to give you a link. Every 10 emails you send to other bloggers, you can expect a link or two based on our broken backlink outreach testing.
6. Social Signals
When people link to (share) your website on a social media network like Facebook, Twitter, Pinterest, or Reddit, you get social signals.
To determine how active and updated the website is, search engines use social signals. The more high-quality social signals you have the better it will be for your site's rankings on Google search.
Choose one or two social platforms. Try to post at least once a day on those platforms. Also, double-check that all of the details on your social profiles match the information on the website.
Social signals provide social proof for your link-building campaigns, are an important part of every ranking project, and are a fantastic free backlink source.
7. Guest Posting
When you write a guest blog post for another website, the website can link back to your own blog from your guest post. This is called a cross-linking strategy: guest post – host post – guest post (or a 3-way backlink exchange).
When you arrange the backlinks if possible, give a backlink to one website, but receive a backlink back from another, and post the guest blog post on a 3rd website. This ensures that any post you write earns you backlinks automatically.
Guest blogging has its own set of benefits, including:
The ability to create important and high-quality links;

You'll have the opportunity to connect with other bloggers;

Your email list can be quickly built and expanded;

You can easily send traffic to your home page or any other relevant pages on your blog.
So make a point to write at least two guest posts for other bloggers per month. You'll get a high domain authority and probably see a significant increase in traffic within a year.
9. Infographics and Listicles
Infographics are a popular way to drive traffic to your website while still gaining valuable backlinks.
Not only do they provide easy-to-understand information, but they are also frequently shared on social media and linked to other bloggers.
Humans are visual beings, after all. In reality, content that includes related images receives more views than content that does not. You don't need to be a professional designer. There are online SEO tools like Visme which can create infographics quickly and with ease.
Listicles are also a great way to get your product or service in front of your target audience while earning links. Listicles are popular on the internet because they take little effort to read. Overly long content will scare readers off looking for specific key information right away. 
To be included on any listicles, you must contact a writer or author to explain why you are a good candidate for selection like the rest already on the list.
10. Email Outreach
Email outreach is the process of reaching out to webmasters, content writers, digital marketers etc. via cold emailing for the purpose of getting their website to mention and link to yours. The goal is to promote a piece of content, request a backlink, or create a relationship or partnership. Whenever you mention a tool or a blog in your article, email the owner to let them know that you gave them a mention.
For successful email outreach for backlinks, there are some key points you should take into consideration:
Make sure you're reaching out to someone whose content is

relevant

to yours so you can get a relevant link. That means that the website, article and anchor text should be relevant to the niche, theme and targeted keyword you're aiming for. 

Also, make sure that the people you're contacting are within your specific

target audience.

Take your time when researching your target audience that's the most appropriate for your backlink outreach. Filter out the good from the bad, the more segmented it is the better. This is where relevancy comes into play again. There is no point in doing outreach if you're not reaching out to the relevant people.
Here is an example of an email I use for backlink outreach: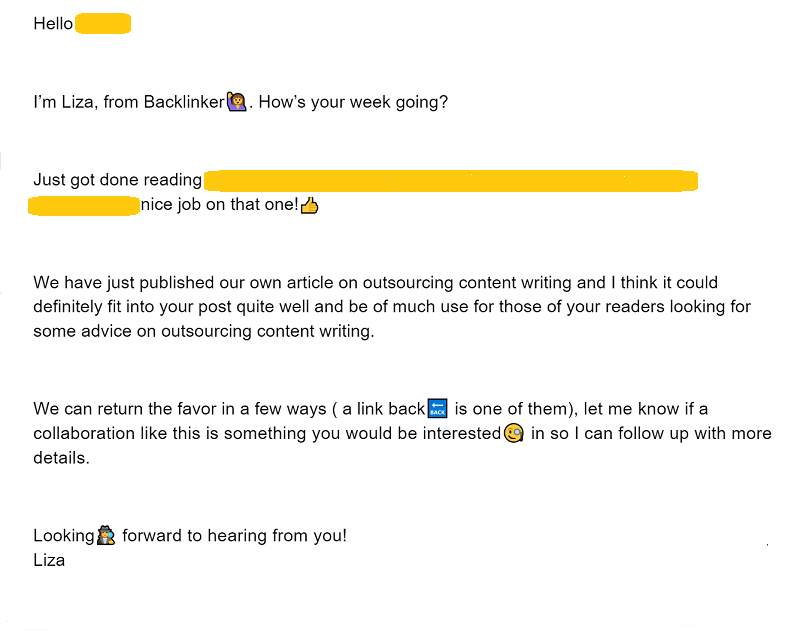 Conclusion:
High quality backlinks are one of the most important parts of SEO responsible for the growth of your website.
Getting backlinks can sometimes be challenging, but not impossible! You can easily find link-building opportunities by using the right sources and techniques.
Link-building also helps to build relationships with others in your industry with whom you can exchange new content.
Websites with valuable content and backlinks should expect to appear at the top of Google's search results. Low-quality content won't help your link building efforts.
If a site doesn't have a lot of backlinks or only gets visitors from low-quality sites, it means it has a poor backlink profile that needs to be improved. Reach out and collaborate with popular sites. In that case, you can get links from sites with enviable levels of traffic and authority.
High-quality link-building is one of the most effective ways to increase targeted traffic and improve rankings. Creating quality content is worth mentioning when it comes to getting backlinks from authority sites.
There is no such thing as an elevator to success. You have to put in the hard work.